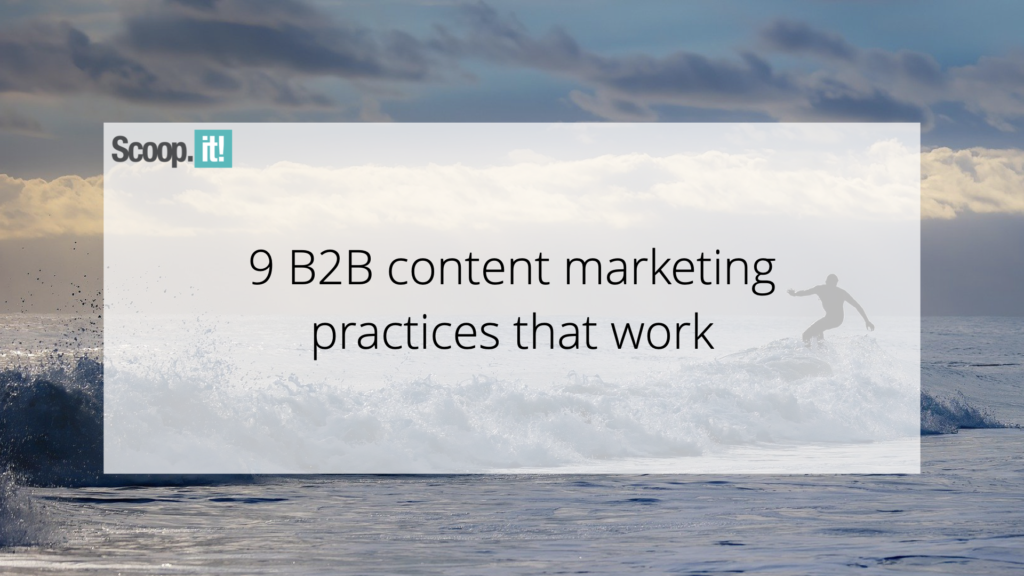 Content marketing plays an essential role for both B2C and B2-B businesses. The best way to develop a successful B2B content marketing strategy is to understand precisely which business you cater to, where they're coming from, and how you can continuously deliver on their expectations and business needs. 
As per statistics, 65% of companies succeed at their content marketing tactics because of extensive audits.
What is B2B Content Marketing?
B2B content marketing is the art of using any content related to business transactions between two companies. That includes white papers, case studies, ebooks, infographics, etc.
It is a form of inbound marketing that targets businesses and organizations rather than consumers. B2B focuses on building relationships with potential clients and increasing their awareness of your brand, products, or services. The main goal is to tell more about your services or products and how they can increase B2B businesses. 
B2B vs. B2C Content Marketing
The main difference between B2B and B2C (it stands for 'business-to-consumer') is that B2C audiences are consumers who are often looking for something they can buy right away — like an ebook on how to make money blogging.
With B2B content marketing, your audience consists of people who work at companies that need your product or service — like an ebook on how to start an eCommerce website. In a few words, B2C consumers consider their desires and needs that can improve their lives in a particular way, while B2B buyers make final decisions based on data and logic.
Elements of a Successful B2B Content Marketing Strategy
Today's B2B marketers need to understand more than just blogging when creating compelling content. What makes B2B content genuinely remarkable is the ability to target potential clients directly, generate sales leads, maximize your content reach and facilitate revenue growth.
Here's what effective B2B content marketing should look like:
Get your whole company (including the product team, sales team, and senior leaders) involved in content to provide subject matter expertise and set a strategic direction.
Build a robust customer feedback loop regarding customer interviews, focus groups, comments, and satisfaction surveys.
Create weekly, monthly or quarterly reports with business KPIs and goal tracking.
Make alignment between your target consumer and the actual target audience of your content. 
There's a science behind it: a well-planned B2B content marketing strategy will help you get more value from your efforts and increase ROI. 
Let's get started.
How to Build an Effective B2B Content Strategy
If you have any experience in B2B content marketing, you can skip this section and move on or refresh your skills and stay here. But if you're a newbie in this game, you may wonder how it works and what it means for your business. 
Some things you should consider while developing the overall B2B content marketing strategy:
1. Identify Buyer Persona
A buyer persona is an abstract representation of a target audience based on real people's behaviors, needs, and goals. They give you an edge over competitors who don't have them because they allow you to speak directly to your target audience in a way that resonates with their needs rather than guessing what they want or need based on assumptions.
2. Choose Main Content Channels and Formats
Another thing you should do is to choose your main content formats and the channels you'll use to promote this content. You can create video tutorials, ebooks, podcasts, or long-form blog posts, depending on your target audience.
Look at how each channel fits into your overall marketing plan, what kind of content resonates with businesses on each platform, and how much time you spend creating content for each channel. Once you clearly understand your target customers, you will quickly pick the right content formats and channels.
3. Determine Content Goals
You need to know what type of message you want to convey. If you have multiple audiences, ensure you have goals for each group. That will help you organize your content strategy and identify gaps in your messaging. Before you create any new content, determine your goals for that piece.
4. Systemize Content Process
The first step to successful content marketing is to systemize your overall process, especially if you're new to it. Start by defining the roles and responsibilities of every person involved in creating and sharing content. Then develop a workflow that includes:
Content creation and curation
Social media promotion and amplification
Measurement, analysis, and optimization
Instead of managing things with docs and emails, you can use unique collaboration platforms like ClickUp to make the content process much more manageable in one place.
 5. Define Leads and Micro-metrics
Before you start producing any content, defining a lead for your business is essential. If a lead isn't defined clearly, there's no way to know if someone has become one or not.
To ensure you're on point with this definition, consider creating a micro-metric that can be tracked easily in Google Analytics or any other tool. This way, once someone becomes a lead (for example, fill out a form on your website), they'll automatically get added to the list of people your company has contacted about potential business opportunities.
That can help drive conversions further down the line because people will see how much time and effort went into getting them interested in doing business with you.
B2B Content Marketing Tactics to Improve Your Strategy
A solid content marketing strategy can help your business thrive in this competitive landscape. But when it comes to B2B content marketing, what does success look like? And how do you know if you're on track?
Here are nine B2B content marketing practices that can work for you:
1. Create Highly Personalized Nurturing Journeys
Setting up a personalized nurture journey is the best way to succeed in your content marketing efforts. That will help your audience move through the sales funnel. You can create automated personalized emails or live chat prompts to easily customize particular assets and pages downloaded and viewed on your website.
With the right email marketing tools, you can automatically send emails at specific times during the sales cycle based on what stage customers are at in the buying process. For example, if they're starting as a prospect and haven't been educated, you might email them with resources to get created. If they're further in their research, you could send them a whitepaper or case study related to the product or service they're interested in.
2. Use SEO Practices
You can't get results without good SEO practices. Make sure your content is search engine friendly by using keywords in title tags, headings, paragraphs, and URLs. You can use WebCEO which is used by many welll known link building agencies to conduct a website audit and check your website performance in search engines. You spy on your competitors' content, find their best content and detect their pain points.
Ensure each page has unique content and internal links to direct readers to other relevant pages on your website or blog. Lastly, ensure that you optimize all images using alt text descriptions and titles so that they appear when someone searches for them online. Double-check your content for grammar mistakes, plagiarism, and readability.
3. Add a Problem-solving Approach to Your Content
B2B buyers are looking for solutions to their problems — not just information about products or services. Content aimed at customers' issues will attract more conversions and satisfy their needs.
If you want your prospects to engage with your content, make sure it speaks directly to their pain points and gives them actionable advice on solving them. That will help them understand how your product or service can be valuable and encourage them to take steps toward becoming a customer (like downloading an ebook or filling out a form).
4. Create Content Marketing Partnerships
Content marketing partnerships can be a great way to grow your reach and expand your knowledge base. It is an underused way, but it can help you reach new heights. You can partner with other brands and companies that share your values or target audience. 
For example, if you're a B2B financial services provider and want to create helpful resources for small business owners, consider partnering with other brands that serve the same client base — such as banks or insurance companies.
Partnerships with influencers in your industry are very effective as they can include your content on their social media posts or marketing newsletters.  
5. Use the Power of Cross-Pollination
In a recent study of B2B content marketers, we found that the most effective practices were those that cross-pollinate with each other. According to the report, marketers should focus on creating 'content that brings together the best insights across their marketing channels and brands.'
Hence, you use the power of cross-pollination by taking your best content and sharing it with others in your industry. For example, if you have an article about why your product is better than another one, share it on LinkedIn Pulse and put the link in an email newsletter. The goal is to make people aware of your content and encourage them to read it. That way, they can see how your company compares to others in their field.
Guest posting and expert roundup posts are among the most effective ways to boost your authority and promote your product in your field. In your article, you can ask other industry thought leaders to share their opinions and discuss your products or services. That will make your audience trust your business and clearly understand the product value.
6. Build Multi-Layered Content
By building multi-layered content, we mean creating a high-value resource that can be consumed in multiple ways. You should consider different aspects like images (screenshots, infographics, diagrams, etc.), text, and video.
For example, if you want to create an eBook, don't just write it and put it on your website. Instead, consider these options:
Add an audio version of the eBook with additional commentary and insights by the author.
Create a video version of the book; this could also be turned into a webinar or recorded training session.
Create a slide deck based on the book so people can easily share it on SlideShare or other platforms. You could even turn it into a presentation for live events or conferences.
 7. Maximize Paid Ads
Paid ads on Google and other search engines can be expensive, but they're also one of the most effective ways to reach your target audience, boost brand awareness, and increase sales. If you're targeting specific keywords, you might even find that you don't need to pay much per click. 
You can run ads on multiple paid promotion channels like LinkedIn, Instagram, and Facebook. Using their targeting options, you can earn on Reddit and Quora to promote your content to your target customers. The key is to keep testing and optimizing your ads until you find what works best for you — and then keep doing it!
8. Conduct Competitive Research
Competitive research is essential to any B2B marketing strategy because it helps you understand how your brand stacks up against the competition. It is a great way to identify industry trends and gaps in the market that you can fill with new products or services. 
You need to understand your competitors' content marketing strategies and how they differ from yours. If a competitor offers free webinars or eBooks on their website, then maybe you should do the same thing — but with one key difference: Yours needs to be better than theirs!
9. Create SEO-driven Glossaries and Libraries
As you know, Google prefers well-organized content. Creating a glossary of terms and libraries for B2B audiences is an excellent way to group your content based on related keyword clusters. 
You can include technical terms or industry-specific words and phrases that may not be familiar to all employees or clients. That will help ensure that your audience understands exactly what you mean when you use these terms in future communications. Glossaries and libraries allow you to rank high-volume keywords that would be too competitive.
Wrapping Up
You may have noticed a theme running through this list: consistency. Creating and consistently publishing content is significant in B2B marketing success. And with the right approach, it doesn't take much time or money to create quality content that can be continually published and republished, driving traffic and conversions to your website.